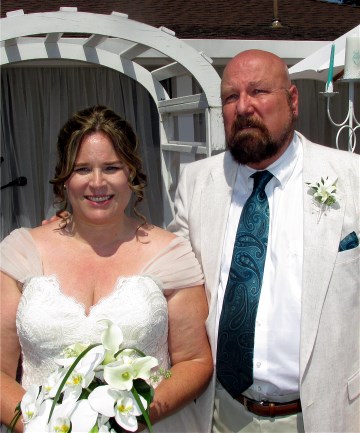 on the occassion of their wedding!
---
On December 2, 2015, New York Times published, "Whistle-Blower Group Found Itself Target of Labor Complaint," by Matthew Goldstein and Ben Protess. The story breaks the news about the settlement that Lindsey Williams and Richard Renner reached with the National Whistleblowers Center (NWC) about our 2012 termination after we starting organizing a staff union.
Lindsey and Richard have issued a press release and a petition drive. Please sign the petition to join our call for an end to gag clauses at NWC.
Follow this link for the latest photos of Audrey Carol Copeland
Welcome
Tate & Renner was a private law office in Dover, Ohio (1995-2009) and Silver Spring, Maryland (2012-2013). Established in 1995 by Al Tate and Richard Renner, we advanced social justice through the practice of civil law. We handled employment matters, especially on behalf of whistleblowers. We also handled consumer, landlord-tenant, domestic violence, immigration and wage theft cases. Richard is now a partner at Kalijarvi, Chuzi, Newman & Fitch, P.C. Richard's blog is now here. We maintain this legacy web page for professional and personal reference.
On this web page, you can see Richard's collection of his photography and his travels to Guatemala, Mexico and Puerto Rico. You can even play with our "clock" and subscribe to Richard's free weekly synopses of the NPR puzzle.
Click here to listen to Richard's experimental podcast about a visit to the American History museum. Click here for the links to subscribe to the experimental podcast.
For more information about Richard Renner, visit his résumé. It has links to his cases, accomplishments, and affiliations. Under "Articles," (above, on this page) you can read advice that we give to our clients about taming stress, buying a used car, defending yourself from professional debt collectors, what to do if the boss questions you, and how to meet the 30-day deadline for environmental whistleblower complaints.
Contact Richard Renner by email at rrenner@igc.org. This web page features an early design by Chris Renner. Follow this link to see his more recent work. We welcome your comments.