Tate & Renner home page
Pictures from El Paso and Juarez 2005-10-06
Pictures from El Paso and Juarez 2005-10-07
On 2005-10-08, a coalition of community, religious, peace and civil rights groups met in Elena Memorial Park, Sunland Park, New Mexico. They want to raise awareness about vigilante activity against immigrants, call for peaceful means to address immigration, and provide legal status for immigrant workers.
---
<-- Danzantes and

Matachines provided cultural entertainment that expressed pride for our ethnic origens.
---
Each generation learns these values by watching those who went before.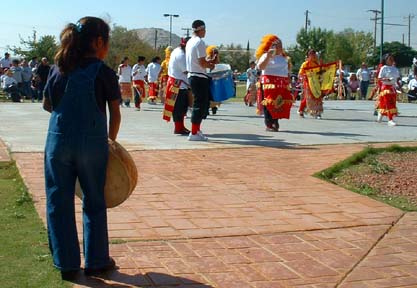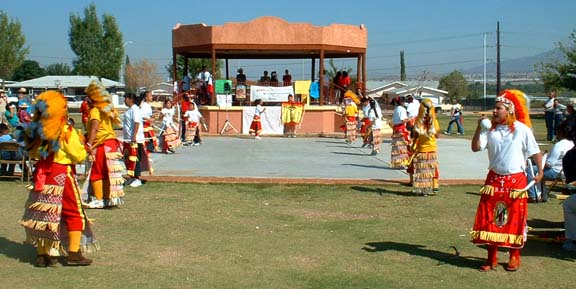 ---
We heard from a variety of speakers:
---
Much time and care went into this banner:
| | |
| --- | --- |
| front: | back: |
---
I liked this musical group, but I could not find the CD.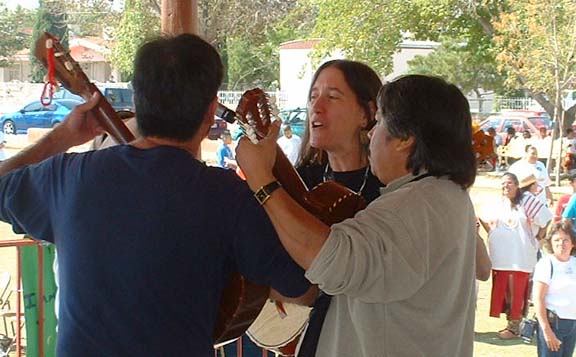 ---
Here are links to some of the groups that participated. If you know more, drop me an email.

Vigilante Watch, a joint project of the ACLU and AFSC.
Click here to see their video documentary, Rights on the Line: Vigilantes at the Border.

White Ribbon Coalition or Liston Blanco.
---
Email me at: rrenner@igc.org
---
Last Updated: 2005-10-10
Copyright © 2005 Richard Renner
All rights reserved. Permission granted to participants in the 2005-10-08 rally to use these photos.