Return to Tate & Renner home page
See pix from First day in Chiapas , Second day in Chiapas , Fourth day in Chiapas , Fifth day in Chiapas , Sixth day in Chiapas , or the Seventh day in Chiapas
National Lawyers Guild's third day in Chiapas
On 2005-03-14, we continued educating ourselves, and began preparing for the meeting with The Network of Defensores. The National Lawyers Guild delegation in San Cristobal de las Casas, Chiapas, Mexico, met with prison rights activists who wrote a series of manuals for prisoners, families, communities, organizations and activists. They explained to us how profound is the problem of arbitrary detention, fabricated evidence, and lack of resources for prison management.
First, breakfast at Posada Carmelita presents an array of fruits, tortillas, vegetables and pancakes.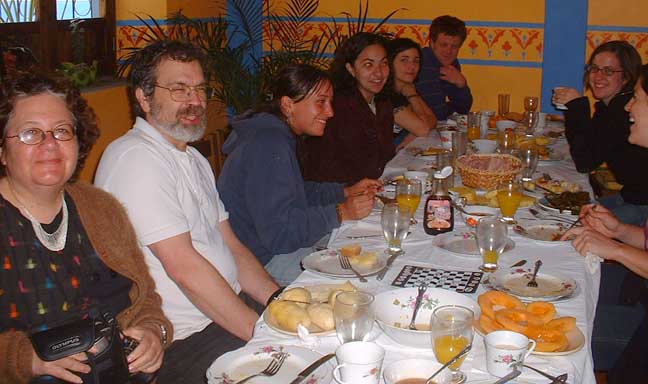 Later, we met to prepare our presentations for the retreat with the Network. Then we traveled across town to meet attorney Martha Guadelupe Figueroa Mier, of the Women's Group of San Cristobal (COFEMO). We learned about how their La Morada program integrates medical, legal and psychological services. We learned about their complaints to the Interamerican Commission and the UN. We saw the collected evidence of violence against women.
---
Kerry and Ian are ready for the morning session.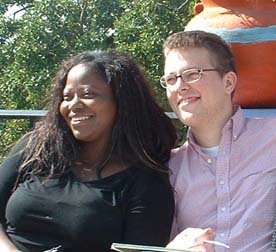 Our lecturers on problems with the prisons and criminal justice did not want to be photographed. So, here is the map they showed us that marks the locations of the regional prisons. They explain that they are disproportionately in northern Chiapas.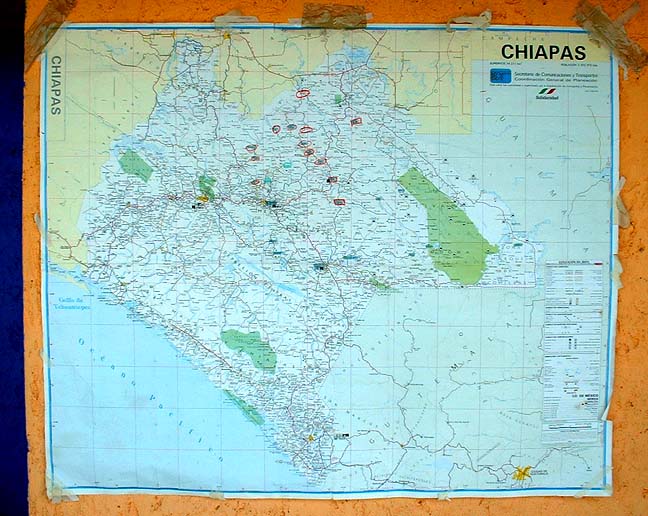 ---
San Cristobal.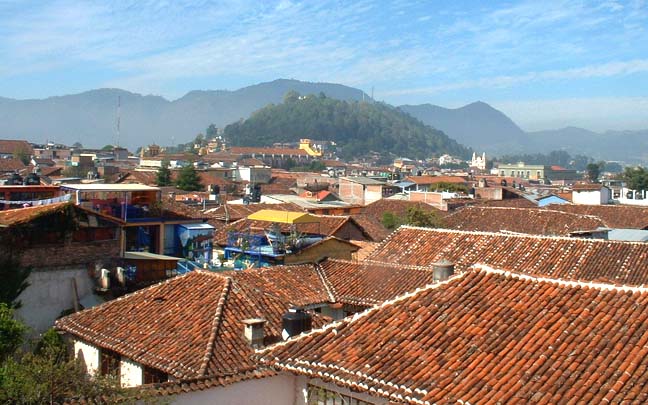 ---
| | |
| --- | --- |
| Erosion from surface mining is evident: | The culprit in the early morning noise caper is discovered. |
---
Laila, Thad & Leah: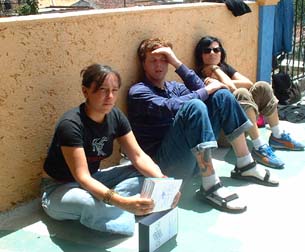 Long live the resistors of the world (but not the capacitors?).

---
| | |
| --- | --- |
| Lunch at La Casa de la Luna. It hosts a book store, and a women's craft cooperative. It served a cactus pastry that was delectible. | We begin preparing for our presentations to the Network. Here, Ian and Peter are among the participants. |
Clockwise: Leah, Laila, Thad, Jessie, Mel, Mercedes and Nannette.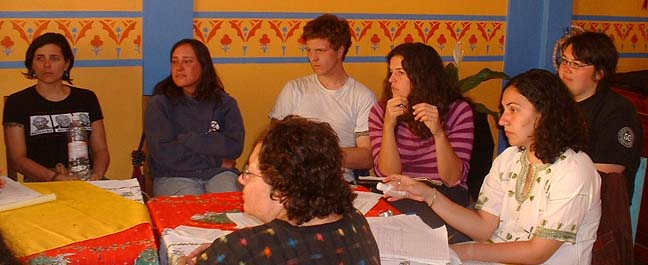 | | |
| --- | --- |
| Nanette and Kerry. | Larissa, Richard and Nannette. |
---
| | |
| --- | --- |
| We took a "colectivo" to ... | the colective called COFEMO |
---
La Morada (the purple) is COFEMO's program for victims of domestic violence and sexual assault.

Martha explains the processes they use in advocacy to solve a victims problems before they resort to the courts.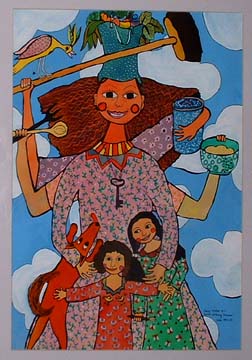 ---
Martha reviews the evidence that supports their complaints to the Interamerican Commission, including evidence of 4,000 disappeared women from Cuidad Juarez.
---
Ian took a group photo.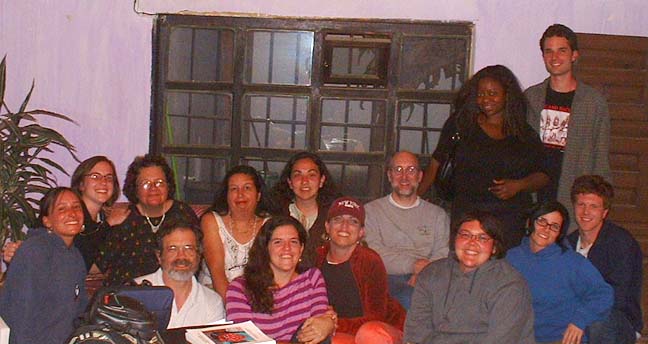 | | |
| --- | --- |
| We go to La Madre Tierra. | Mel, Kerry, and Larissa at Madre Tierra. |
---

Send me an email at rrenner@igc.org
See pix from First day in Chiapas
See pix from Second day in Chiapas
See pix from Fourth day in Chiapas
See pix from Fifth day in Chiapas
See pix from Sixth day in Chiapas
See pix from Seventh day in Chiapas
---
Tate & Renner home page
Dated 2005-03-20
Copyright © 2005 Richard Renner
All rights reserved. Permission granted to the National Lawyers Guild to use these photos.