Pictures of our canoe trip, 2005-09-05 + Our bike trip, 2005-07-14 + Our trip to Washington, 2005-07-09
Tate & Renner home page
On 2005-10-30, Tyler got to ride in, and drive, a combine. Here is our invitation:

Why can't you tell secrets in the cornfield? .................................The corn has ears.

Hi there!  :)  Why am I telling farm jokes, you might ask?  Well... because this morning, I talked to my friend Chris who works on my parents' farm.  He was doing some maintenance on the combine (see picture below if you don't know what a combine is) and I asked him if he was willing to take any "riders" this year.  He said that it would be fine if any matches wanted to have a ride in the combine for a few passes around the field while he is harvesting corn or soybeans.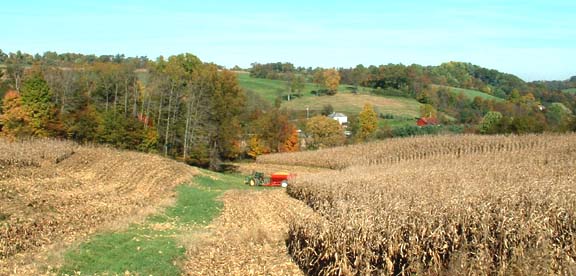 Dad's combine is what's called a "sidehill" combine, and it has a pretty neat feature that no matter what kind of slope the field has, the cab of the combine remains level.  The combine also is equipped with a high-tech GPS (Global Positioning System), and can map its yields.  It is 14 feet tall and 17 feet wide and takes up the whole road when it has to go from one field to the next!  Chris will also be good at answering any questions you or your Little might have about harvesting... like how many acres he will cover in one harvest season, or how many bushels of corn he gets per acre... or how big is an acre anyway?  Maybe your Little will want to know what he likes best about being a farmer or how old he was when he drove his first tractor?  Point of interest... my younger sister drove up to her senior prom in a combine back at Garaway High School!  :)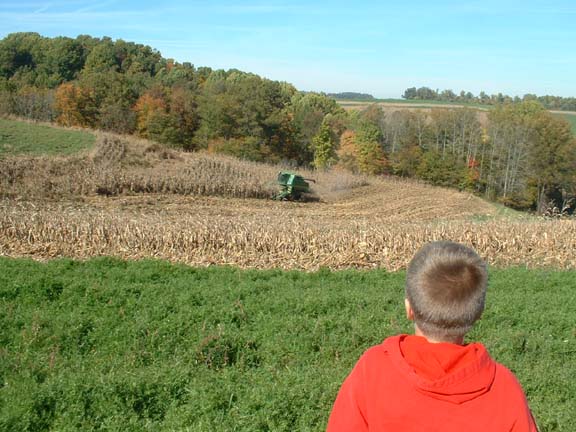 What do you call a sleeping bull?...........................................................A bull-dozer.
If you are interested in arranging a ride in the combine with Chris (and/or a tour of the LARGE grain-drying system at Echo Valley Farm with my dad Bruce) you may contact either one of them directly.  The combine does have an extra seat, so an extra person can come along comfortably.  For a match, it's a little tighter fit, but one person can sit on the ice chest... and it will work. 
     Echo Valley Farm is located between Baltic and Ragersville, in Tuscarawas County.  We're about 25 minutes from New Philadelphia and 30 minutes from Millersburg.  
What kind of milk comes from a forgetful cow? ............................Milk of Amnesia.
Here's another cool FARM opportunity for you and your Little: I also made a call to Dan Andreas, and asked if he would be willing to give a brief tour to matches who might like to see one of the area's largest dairy farms, and he said that would be fine.  Andreas Farms milk nearly 1,000 cows three times per day.  They produce a semi-load of milk every eighteen hours.  More than 2,000 cattle are owned by Andreas farms at various locations.  They consistently win awards for the quality of their milk.  There are 25 employees who care for the cattle and the crops.  The cows actually sleep on mattresses filled with recycled shredded tires!  Both Andreas Farm and Echo Valley Farm are examples of "family farms" which have been passed down from one generation to the next.   
Rather than have each interested match schedule separate visits to Andreas Farm... I'd like to know which matches are interested, and if possible, maybe we can consolidate into a small group to go together at one time (or even in two small groups).  So, please respond ASAP if you'd like to be included.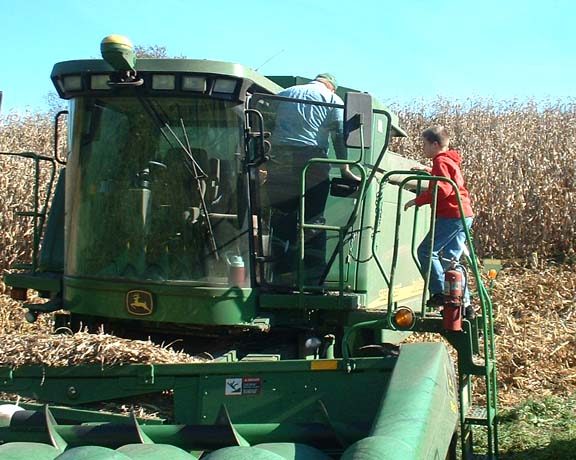 Why do cows wear bells?....................................Because their horns don't work.
Last point... I have talked with several Bigs lately who have mentioned an observation that their Little doesn't seem to be very good at remembering to say "thank you."  Participating in an activity like this is certainly educational, but also provides a built-in opportunity to prompt your Little to say "thank-you," or to ask your Little to think of a good way to show appreciation, whether it's writing a THANK-YOU note to the farmer, drawing a picture of a combine or a cow later on and sending it... or something else (Chris might enjoy a candy bar or can of pop while he's working in the fields... as farmers have been known not to stop for supper!).  :)  
Agriculture is an important part of our local economy, and I hope that some of you will take advantage of the opportunity to visit a farm with your Little, and let me know what you learned and what your Little thought of the experience!  :)    
Amy Stauffer, B.A.
Match Support Specialist
Big Brothers Big Sisters of East Central Ohio, Inc.
330-364-3800 or 1-888-364-5965, ext. 127
Check out our website:  http://www.bbbseco.com
---
Here is Tyler's response:

Thanks for the email I really apresheat it.Could you ask her this? Do you think I can drive it.If so please respond

PLEASE!!!!!!!!!!!!!

FROM: Tyler knight
---
Tyler, the answer is YES. Let's see how it went: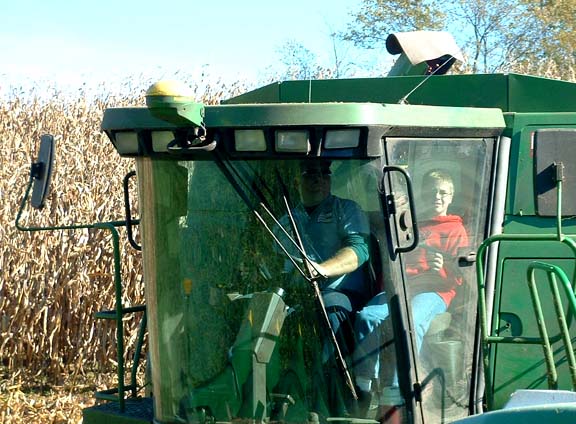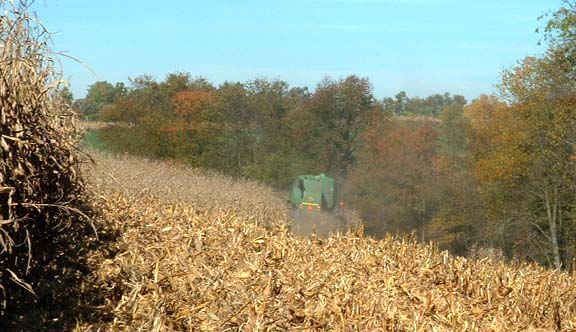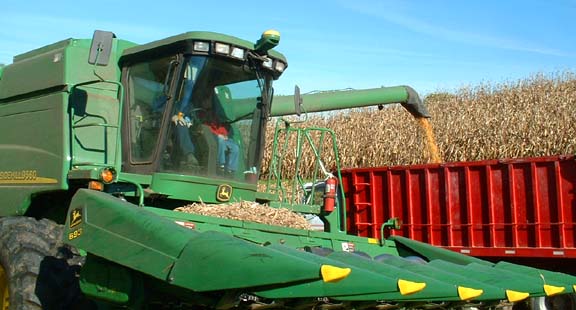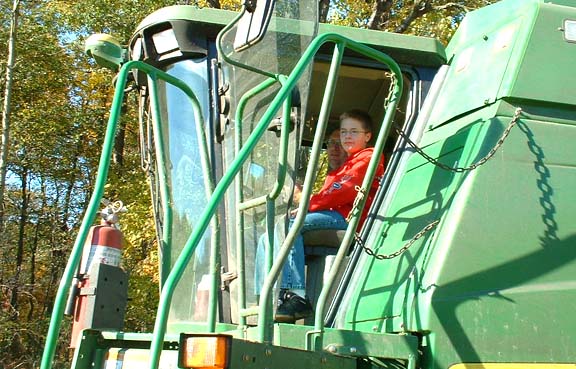 ---
Here, Bruce shows Tyler how the drying process works.
They are looking at the base of the grain elevator.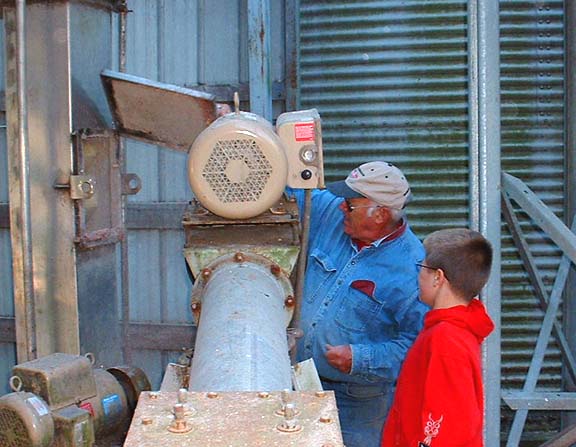 Look how high it is: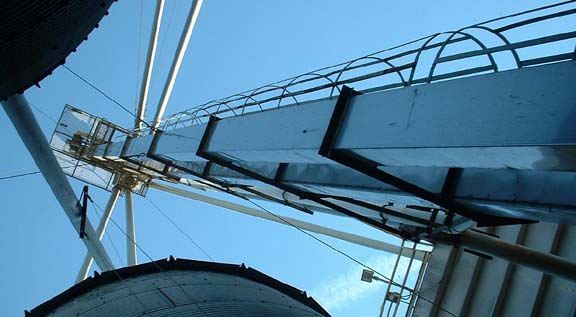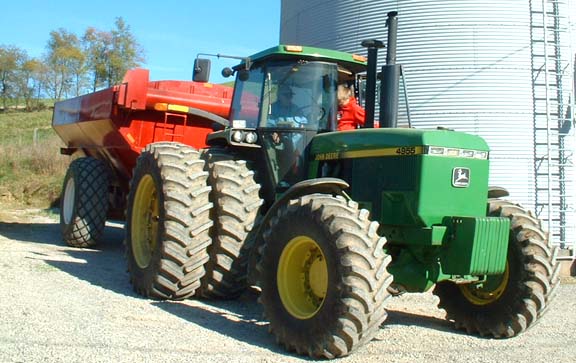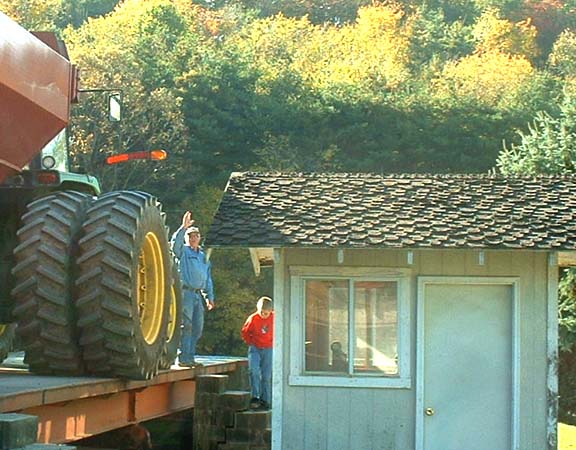 ---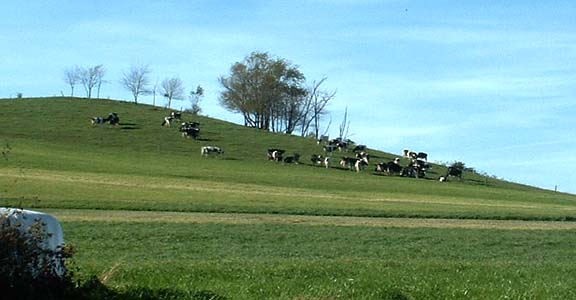 ---
Email me at: rrenner@igc.org
---
Last Updated: 2005-10-30
Copyright © 2005 Richard Renner
All rights reserved. Permission granted to BBBS to use these photos.