First Christian Church
104 Third Street NW
New Philadelphia
www.fccnewphila.org
December 24, 2004

Christmas Eve Service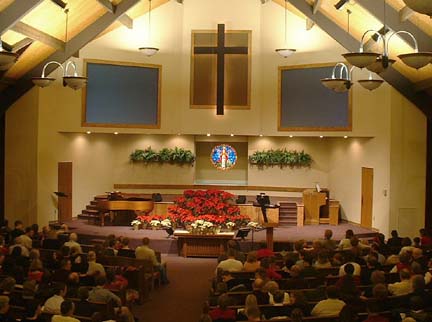 PRELUDE: Micah Carrick, Taylor Williams
CONGREGATIONAL WORSHIP:
CHRISTMAS SCRIPTURE: Spencer Morgan
Luke 2:1-7
SPECIAL MUSIC:"Welcome to Our World"
CHRISTMAS SCRIPTURE: Courtney Douglas, Whitney Kneffler
Luke 2:8-18

---
| | |
| --- | --- |
| Taylor and Micah: | Courtney and Whitney |
SPECIAL MUSIC: Micah & Larissa Carrick
"O Holy Night"

| | |
| --- | --- |
| Larissa and Micah | Tyler self-portrait |
CHRISTMAS SCRIPTURE: Hannah & Gabe Hixenbaugh
Matthew 2:1-11
CONGREGATIONAL WORSHIP:
DEVOTIONAL THOUGHT: Jim Borton
CLOSING SONGS:
BENEDICTION: Jim Borton
---
Jim Borton's message: Can we relate to the gate that is closed to God, the person who needs to learn more, the person who has arrived but with baggage, or to the star?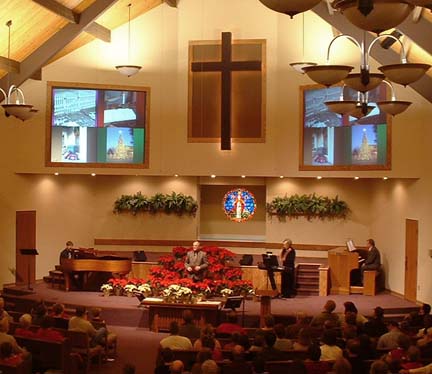 ---
We joyfully greet our members and their loved ones and all our visitors on this Christmas Eve! We remember together, with awe and gratitude, how God shone His light into our darkness on that first Christmas. We pray that we may be bearers of His light to all who languish in the darkness of poverty, illness and fear. May we share with them the light that shines from the face of our Lord Jesus Christ.
It is requested that there be NO applause during this service, in keeping with the solemnity of this special night. Please turn off your cell phones and pagers.
It is our simple prayer that your family experiences the love of Christ this Christmas season.
Jim Borton and Staff
---
Click here to send email to Richard, or to ask for a high-density JPG suitable for printing.
To get the filename of any photo, right-click on it, and choose "properties."
Return to Tate & Renner homepage
This page last updated: 2004-12-24
Copyright 2004 by Richard Renner, rrenner@igc.org, permission granted to First Christian Church of New Philadelphia to use any of these photos.