Return to Tate & Renner home page
Visit NELA's home page
NELA Convention, 2005-06-22 to 2005-06-25
NELA succeeded again to unite employment lawyers for education, celebrations and advocacy. This year we met at the Wyndham in Philadelphia. Here are some pix:
| | | |
| --- | --- | --- |
| Paul Tobias reminds us that George Washington gave the order to "attack at-will." | Janet Hill reminds us that the work to win freedom is not over. So, NELA calls on us to support the new Washington office. | Paul recalled that NELA moved the national office to San Francisco so that Teri Chaw could be Executive Director. Teri was appreciative. |
---

---
| | | |
| --- | --- | --- |
| Joseph Golden | Bill Tomayo tells us that our population is changing. | Helen Davis tells us that we are getting older. No soundtrack from They Might Be Giants. |
| | |
| --- | --- |
| Randy Capps tells us that we are becoming immigrants. | Here is one of his graphs. |
---
| | |
| --- | --- |
| Matt Finucan (phonetic) of the AFL-CIO tells us that whatever the make-up, 21st Century workers need unions. | The panel took questions from the floor ... |
but the discussion continued even more.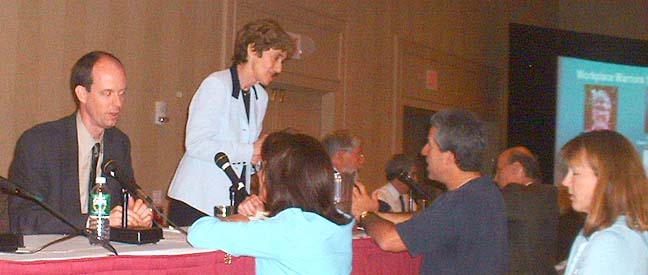 ---
| | |
| --- | --- |
| The T-shirt produced by Ellen Messing for the SAFER table was so popular, we had to decide how to field the demand for it. | Here I am modeling Ellen's T-shirt. We decided on a silent auction. |
If you missed the auction, it is not too late to send a contribution to support NELA members who face sanctions motions and ethical issues. Send your contribution to the NELA HQ.
---
Next, we celebrated four courageous pioneers for equality and honesty.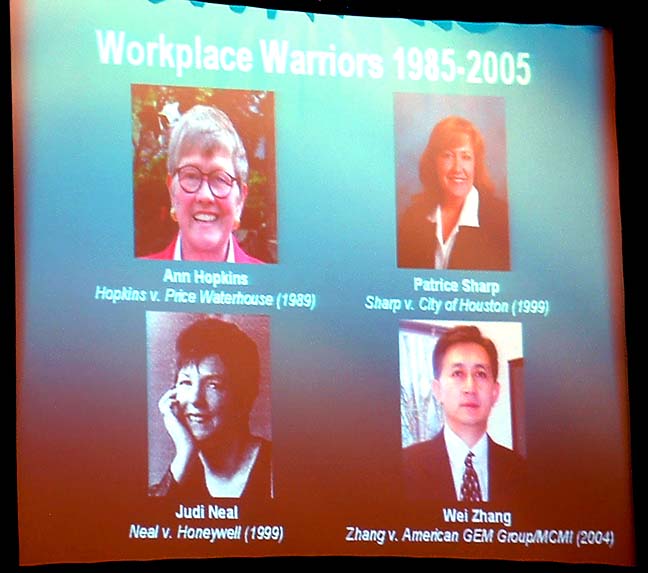 Here they are in the flesh, telling their stories and sharing their lessons with Janet Hill, Mary Anne Sedey, and us.

Judi Neal established Spirit at Work to capture and continue the spiritual growth that came from becoming a corporate fraud whistleblower.
Wei Zhang and Patrice Sharp.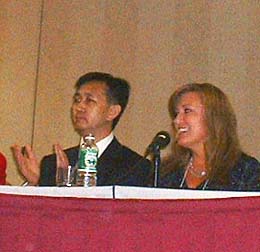 All four received NELA awards.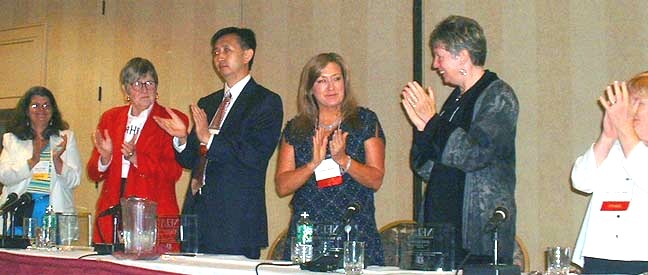 ---
| | |
| --- | --- |
| Will Durst entertained us. | Will's material was edgy, so he stayed near the exit. |
---
Ellen Messing speaks on settlement valuation for mediation.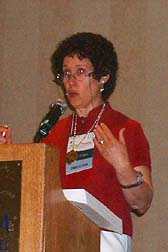 Nancy, David and Ellen.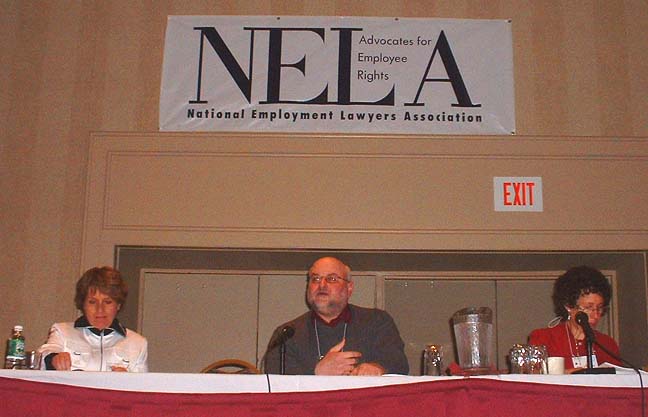 ---
Arthur Bryant from Trial Lawyers for Public Justice.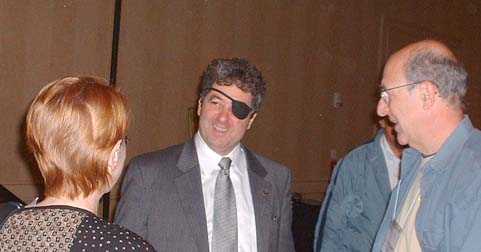 Paul Brand from Trial Lawyers for Public Justice.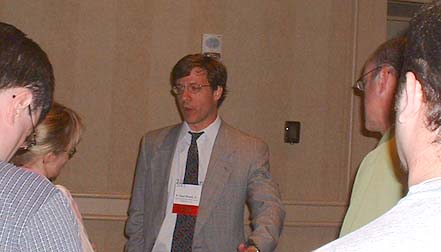 ---
It is because of places like these that I will never be on the site selection committee.

Fred Gittes and Lou Jacobs on Saturday morning. My eyes were a little blurry, but boy did I wake up when they started talking about the mistakes they see too much of.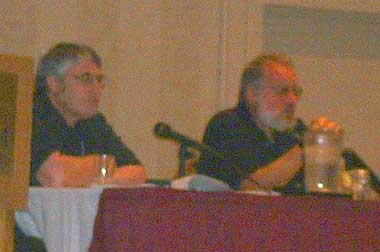 ---
Al Karlin, Walt Auvil, Andy Katz, Wendy Radcliff & Paul Sheridan (photo courtesy of Walt).
---
More NELA photos?

Ohio ELA 2004 conference
Cleveland ELA 2002 party
---
Links from this page:

NELA
Trial Lawyers for Public Justice.
NELA SAFER Committee
Spirit at Work
AFL-CIO
Urban Institute

Union label T-Shirts and other items are available from:

Dated 2005-07-11
Copyright © 2005 Richard Renner
All rights reserved. Permission granted to NELA and its affiliates to use these photos.