Return to Tate & Renner home page
Biking in Oberlin 2005-07-14
The Ehrhardts invited us to bike in Oberlin on 2005-07-14. First, though, Tyler and I met my father and Marlane, who just happen to be in Oberlin on the same day. Here are some pix:
Here is Dan and Marlane at the Hallauer House Bed & Breakfast.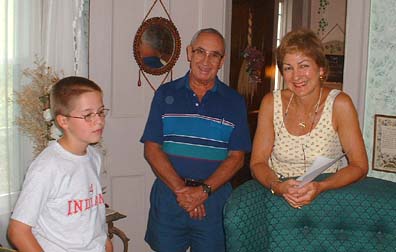 ---
While waiting, Tyler had time to asseble and ride the unicycle.
---
| | |
| --- | --- |
| Then Susan showed Tyler how to ride a tandem. | Tyler rode with Rikki. |
Notice that Tyler likes the one-rider to one-tire ratio?
---
We did not take this rest break until after half an hour of biking.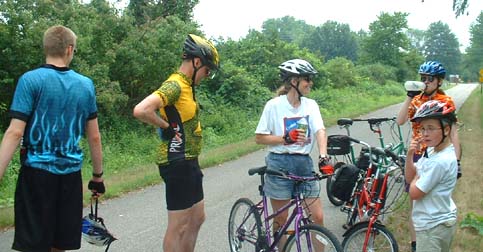 ---
We sent the vegetarians out to look for McDonald's. None were found.
---
I did not believe in staying up with the rest of the pack.
---
| | | |
| --- | --- | --- |
| Eric makes a repair. | Hank & Rikki | Tyler appreciated how the "stoker" can pick up his feet and rest, especially when Susan is "captain." |
Luckily, we never needed this ambulence.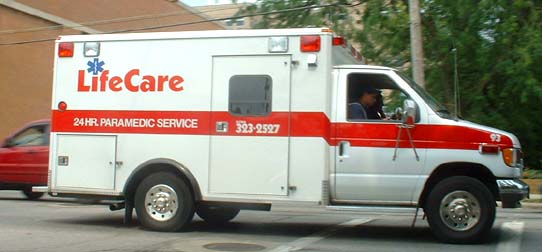 ---
Want to see pictures of our trip to Washington? Click here.

Send me an email at rrenner@igc.org

Dated 2005-07-19
Copyright © 2005 Richard Renner
All rights reserved. Permission granted to BB/BS and its affiliates to use these photos.